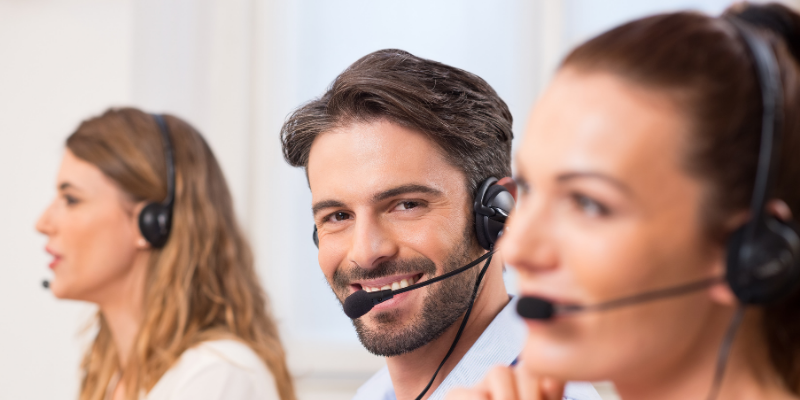 Shift scheduling at the sales and customer service centers
Managers of the sales and customer service center in all industries devote a great deal of time and energy each week to scheduling the service representatives' shifts, in addition to the other vital administrative tasks they are responsible for. 
The following article presents all the important tips for smarter and simpler shift management at the center.  
Tips for correct planning of shift scheduling for the service representatives at the sales centers
Follow these tips for optimal shift management at the center:
Being considerate of your employees pays off: Working at the customer service center requires the service and sales representatives to be courteous, polite and patient to every customer. Being considerate of the representatives' personal preferences when scheduling shifts helps them maintain a positive atmosphere, high work ethic and service-oriented attitude to the customers.
Don't delay work scheduling until the last minute! A clear and binding definition of the deadline for submitting the weekly shift requests while sending timely reminders to employees prevents unexpected problems and stress, and forms a foundation for more organized and effective shift management.
Pay attention to the job placements: Service representatives, sales representatives and shift supervisors – every employee has a specific job that is important for the center to function optimally, and therefore precise employee placement must be defined for each shift.
Remember that each shift has a different scope of work: A midweek shift does not necessarily resemble a weekend shift with regards to customer demand, and there are also differences between morning and evening shifts.
It's important to match the number and type of service representatives and active stations to the forecasted customer load.


Scouter – All the optimal solutions in one smart shift management system
The Scouter online employee and shift management system lets you give better service to customers, while saving significant time, resources and money:
Optimal shift scheduling for the service representatives and managers: Using advanced artificial intelligence, the Scouter system lets you enter all the constraints and preferences to create an optimal work schedule for everyone.
Online shift scheduling at a click and sending online reminders: The Scouter system lets employees schedule their own shifts online, subject to the manager's approval, and sends automatic reminders before the deadline for submitting shift requests.
Entering the relevant employee placement for every shift: With the Scouter system you can easily and quickly define the number of representatives and relevant types of positions for each shift, depending on the expected customer demand.
Free-form text notes: Some shifts have important notes or reminders that you can enter into the system as free-form text, like a note reminding the service representatives to promote a product that you want to sell in a specific shift.
Do you want to give it a try?
– Register now and receive the demo version of the Scouter system for a free trial, with no strings attached!