Pricing
We've got plenty of useful features. Choose the right package that suits your needs
Which modules do you need?
Scouter makes shift scheduling a quick and easy task. You make shifts available and your employees can schedule themselves to the shifts of their choice. You can also do it yourself if you prefer to retain control.
Intra-organizational communication - chat with colleagues
Set up an organizational hierarchy according to the work sites and branches
Dynamic calendar - drag shifts and employee placements
Flexible display that can be customized to your business's needs
The Scouter system lets you connect directly to Meckano, the employee attendance management system. The system is flexible, smart, and can be accessed and managed anytime, anywhere. The system lets you manage attendance clocking on a map, and you can export reports in compatible formats according to the organization's needs, and more.
Biometric time clock
Time clock application
Clock in or out online
Clock in or out telephonically
Clock in or out at a kiosk (tablet)
Connect to update tasks and projects. You define the tasks and allocate them to employees, the employee reports which task he is working on and then updates when he completes it. The system tallies up all the hours in designated reports. The managers just have to log into the system and make decisions based on the data pertaining to the hours that were spent on each task, per project. Cross-referencing the shifts' data with the task management system will give you tighter control and more advanced management of your employees' hours.
Update tasks in real time
Monitor employee hours
Detailed reports for tasks
A control panel with advanced tools for active tasks
Update projects for a group or individual
Manage a budget online - ROI
Integration with additional management systems
Forms for reporting let employees report to managers when they start / stop a shift according to the required need, such as: missing equipment / total sales / mileage / daily travel expenses, and more. The employees need to answer one or more questions (depending on the business's need) and all the information is collected and saved in the system and can be accessed anytime.
Numerous businesses currently use forms for medical declarations to comply with the government's COVID-19 health regulations.
The work agreements module lets you manage complex work agreements, calculate hours according to the scope of the employees' jobs and to display detailed reports that can be exported directly to the payroll system.
Using this module, you can set up a precise work agreements for shift work and for the organization's needs if there are more than one shift per day, and so forth.
How many licenses do you need?
There's a 3-license minimum
Your monthly fee
$0
That's $0 per license
Let's get started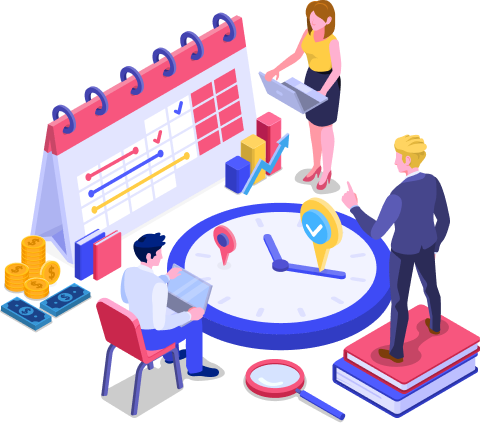 Say hello
The scouters behind the system

Hearing customers cheer on our shifts system that is so easy to operate, makes my day!

Galit
Customer Service Representative
When I hear the smile of customers on the other end of the line, I know I'm working in the right place!

When the system provides real solutions to customers, it does most of the work for me
Frequently Asked Questions
We advise our clients to enjoy Scouter's free demo version, no strings attached. Also, our price list page shows the costs of the modules and optional add-ins, depending on what your organization needs.
Absolutely! If a certain employee always needs to be scheduled with a specific employee or manager, you can enter this information into the system to more effectively and conveniently manage the shift scheduling while taking these constraints into consideration.
Absolutely! The Scouter system is a fantastic product on its own, but it can also link to the Meckano time clock system for enhanced management options.
View all questions
Get the latest news and updates
We value your privacy and will never share your infomation. Check our policy here.
THAT'S $

0

/m, GET STARTED!